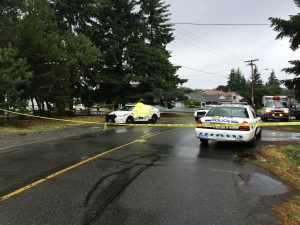 The suspect shot by a Nanaimo police officer has died as a result of his injuries.
Police say around 10:20 this morning (Tues) they responded to a report of a man carrying a knife in the area of Norwell Drive and Highway 19A in Nanaimo.
Police report they located the man nearby on Country Club Drive and following an encounter with the man, police fired shots.
Choon Johokim says he heard the shots from his store across the street….
B.C.'s police watchdog investigators are investigating and are asking any potential witnesses to call the Independeant Investigations Office at 1-855-446-8477.
No other information is being released.