4 Things You Didn't Know You Could Recycle
Is it garbage?
Or is it recycling?
There was a time when you used to throw 'everything' away. If it was no use to you, it was 'trash.' Not anymore. Now so many things can be recycled – and it can all be recycled for FREE at depots like Island Return It.
Why Recycle?
Waste has a huge negative impact by releasing harmful chemicals and greenhouse gasses into the environment. Recycling helps to reduce the pollution caused by waste.
It takes a lot of energy to manufacture new products from raw materials. Recycling requires less energy, preserving natural resources and saving money.
Because it's simply the right thing to do.
Why Don't People Recycle More?
There are several reasons some people are hesitant to recycle more of their would-be trash:
"I don't have time."
When you and your family work together, recycling is easy. Even fun. Schedule a trip to the recycling depot on your to-do list and you'll soon realize it's simple to work a trip to Island Return It into your routine.
"I don't have enough space in my home to recycle."
Space certainly can be an issue, especially if you live in an apartment or condo – or if you live in shared accommodations. It just takes some organization to come up with a convenient system that works for you. And that makes trips to the depot faster and easier too.
"I don't know what I can recycle."
Admittedly, it can feel confusing and overwhelming. The good news is the list of recyclable materials continues to grow; and recycling depots like Island Return It are doing everything they can to let you know what can and cannot be recycled by clearly listing them on their website.
4 Things You Didn't Know You Could Recycle
Automotive, Electronic and Household Batteries.
This includes batteries for power cordless tools, mobile and cordless phones, laptops, digital cameras, camcorders, gaming devices, toys, flashlights, other portable electronics and hearing aids. Recycling small household batteries is free and easy. Just keep a bag labelled 'Dead Batteries' in the 'junk drawer' of your kitchen. And next time you are making a trip to Island Return It, grab the bag before you go.
Small Appliances and Power Tools
What do you do with an old small appliance that just doesn't work anymore? More than 300 small electrical appliances – from electric toothbrushes to microwaves, can be recycled free.
Smoke and Carbon Monoxide Alarms
Smoke alarms and carbon monoxide detectors should be checked frequently to assure they are in good working order. The average lifespan for these devices is 10 years. After replacing them in your home, they can be recycled free!
Electronics
Most common electronics are recyclable, including computers of all types, monitors, printers, TVs, answering machines, amplifiers, speakers and disc players. When an electronic device is no longer working, recycle it!
Recycling starts at home. Create a convenient recycling centre in your house that the whole family can use. You'll quickly get to know what you can recycle – and when you make recycling part of your daily routine, nothing is easier.
---
So many things can be recycled FREE at Island Return It's newest location is in South Cowichan on Fisher Road in Cobble Hill. Drop by Tuesday-Saturday from 9 AM-5 PM (closed Sunday and Monday) to recycle batteries, beverage container, electronics, light bulbs, small appliances, power tools, smoke detectors, grocery bags, and cellphone.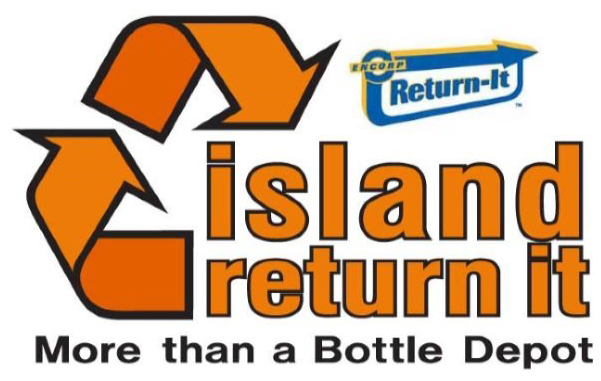 CAMPBELL RIVER -(250) 287-4224
DUNCAN – (250) 748-2066
ESQUIMALT – (250) 381-1482
SALT SPRING – (250) 537-8784
SIDNEY – (250) 655-4878
S. COWICHAN – (250) 929-3475
---