The "Big Stick" at the Cowichan Community Centre won't be able to claim it is the world's largest hockey stick for much longer.
The city of Lockport, Illinois's council approved the creation of a new hockey facility that will feature the new World's Largest Hockey Stick and Puck.
Their stick will be 250 feet long – whereas the Cowichan Valley's is 218 feet.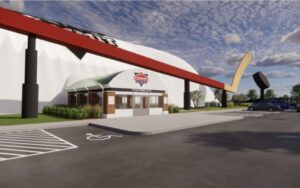 Duncan's was built in Penticton in 1986 to be the entrance of the Canada Pavilion at Vancouver's Expo '86 and transported to the Valley in 1988.
No estimate yet as to when the title will officially change hands to the suburb of Chicago.