More than two-hundred members of the Quw'utsun community and supporters walked through downtown Duncan Wednesday to demand justice for Carsyn Seaweed.
The 15-year-old Indigenous girl died in hospital after she was found barely alive on May 15th behind a motel near the Trans-Canada Highway and Chaster Road.
Carrying banners and drumming as they walked, they bore their grief over Carsyn's loss and anger at the initial RCMP comments reported in the wake of her death.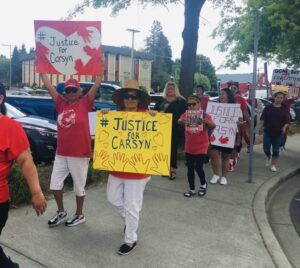 The march began at the Quw'utsun Cultural Centre, proceeded through downtown Duncan to city hall and returned to the Si'em Lelum soccer field where participants listened to speeches and songs.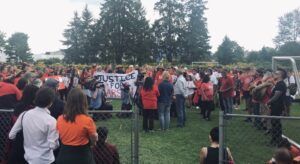 Last week Chief and Council of Cowichan Tribes made a plea for witnesses, or anyone with information about the death of the teenager, to step forward and speak to police.
Former Indigenous police officer Steve Sxwithul'txw, now a documentary and TV producer, says the North Cowichan-Duncan RCMP mishandling of the initial communication exacerbated a belief that Indigenous lives are less important than others.
"It's an ongoing issue for our people, " says Sxwithul'txw, "not only in the Cowichan Valley but across the country, is that indigenous lives seem to be of lesser value in modern day society, it's a really tough thing to say and realize."
In his opinion, the first comment from the RCMP came too soon, before there had been enough time for a thorough investigation.
He says to start off with a verbal communication that was incorrect was the wrong way to start what could be a murder investigation.
"Our people are sensitive," he explains, but notes the "RCMP have back peddled, and they've made the appropriate comments and apologized."
He feels the Quw'utsun community did not overreact, calling its response "dead on," and adding if community members are unhappy with the way police are dealing with things, they have a right to voice concerns.
Sxwithul'txw is hopeful the RCMP will provide meaningful updates to the community, which he says is "so keenly wanting answers and wanting somebody brought to justice."
"This is an innocent 15-year girl, and it doesn't matter what colour they are, it's a life, and it deserves full investigation."
Sxwithul'txw also says the people of the Cowichan Valley and Duncan should be asking if there is "a killer amongst themselves," and whether there is something to fear.
"Where is that communique? We need answers, and as a former police officer and community member of Duncan I would want those answers put out as soon as possible."
Sxwithul'txw, a member of the Penelakut First Nation, is the producer of the reality TV show Tribal Police Files.