He is the 6 month old puppy that went missing in the Cowichan Valley almost 2 years ago now.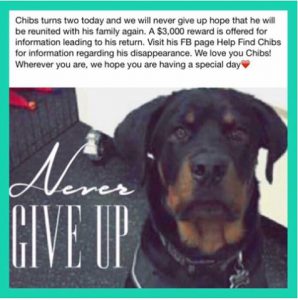 30,000 flyers were distributed when the purebred Rottweiler disappeared, his case was featured numerous times on local media, hundreds of people participated in a search to find him, but he still hasn't been found.
Two thousand dollars was raised to help find him.
Chibs' owner, Kelly Graff, says she hasn't given up hope of finding him, but she's going to hand the money over to two local non-profits.
The Cowichan Branch of the SPCA will get half the cash and a Facebook organization called Flirting with Fido will get the other half.
Graff says that group has been working to bring puppies, from feral dogs, to the Island to find new homes…..