The Municipality of North Cowichan has reopened most of the Maple Mountain trail system.
Don Stewart, North Cowichan's Deputy Director of Parks, Forestry, and Recreation said two areas remain closed to the public.
"Solar Coaster is closed for the time being and also the lower section of the climbing trail (Lower Xylem), from where it starts until it hits Lake Lead Road," said Stewart.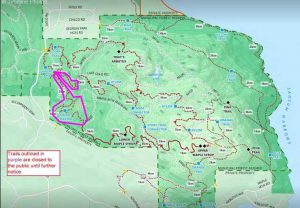 North Cowichan staff have been working in the area to ensure trails are safe for public access and most are.
The Climbing and Solar Coaster trails are still closed and Stewart says the process to open these trails was quite involved.
"We wanted to make sure there was a good time gap between the last hot spots found until there wasn't any more found, ensuring that nothing crept up that we couldn't find," said Stewart. "There was no smoke found, there were no hot spots anywhere in the forest."
Stewart added, "after that, it was a walk through the forest, finding all the hazardous tree locations, evaluating the damage to timber, and looking at trail conditions, making a liability decision of, what stays open, what stays closed?"
Stewart said before these two trails reopen, the fire hazard level has to go down because chainsaw work is required.