The filming of the Sonic the Hedgehog movie has resulted in some restrictions and surprises for some.
Joan Miller with the Vancouver Island North Film Commission said scenes are being filmed along Highway 19 between Cook Creek Road and Horne Lake.
She said the production is permitted to film through to Friday with two additional weather cover days.
That means if the weather doesn't cooperate the filming may run through the weekend.
Highway 19 is closed while the filming is done around the Bowser area and RCMP are reporting they have been inundated with calls from motorists who are having issues with the Highway 19A detour.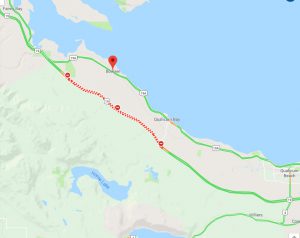 The film company has had conversations with the Regional District of Nanaimo as well as with the BC Ministry of Transportation Infrastructure, Qualicum First Nations, local RCMP and others.
Hedgehog Film has made a 5,000 donation to Soupy Cafe and Food Bank in Bowser to thank the community for their support and any inconvenience during the movie filming.
For the Ladysmith shoot, some parts of the town got a makeover.
Officials have said it is business as usual and shoppers are encouraged to continue to visit the local businesses there but should call ahead as some are planning to close for portions of filming.