Municipality of North Cowichan:

Mayor:
Al Siebring: 3,017
Jon Lefebure: 3,007
Joyce Behnsen: 1,874
Councillor:
Rob Douglas: 4,223
Kate Marsh: 3,821
Christopher Justice: 3,486
Tek Manhas: 3,010
Rosalie Sawrie: 3,009
Debra Toporowski: 2,916
City of Duncan
Mayor:
Michelle P. Staples: 494
Martin L. Barker: 468
Sharon E. Jackson: 330
Daniel R. Helmer: 45
Councillors:
Tom Duncan: 750
Jenni Capps: 675
Stacy L. Middlemiss: 672
Garry F. Bruce: 611
Carol Newington: 547
Robert J. Brooke: 544
Town of Ladysmith
Mayor:
Aaron Stone (acclaimed)
Councillors:
Tricia McKay: 1,419
Jeff Virtanen: 1,264
Marsh Stevens: 1,226
Duck (Donald) Paterson: 1,093
Robert G Johnson: 1,078
Amanda Jacobson: 1,027
Town of Lake Cowichan
Mayor: 
Rod Peters: 479
Bob K. Day: 435
Ross Forrest: 408
Councillors (four needed):
Tim McGonigle: 825
Lorna Vomacka: 796
Carolyne Austin: 651
Kristine Sandhu: 628
Cowichan Valley Regional District
Electoral Area Director (nine needed):
Area A (Mill Bay/Malahat):
Blaise Salmon (acclaimed)
Area B (Shawnigan Lake):
Sierra Acton: 919
Bill Savage: 484
Area C (Cobble Hill):
Michael E. Wilson: 803
Matteus Clement: 239
Darlene Davis: 305
Area D (Cowichan Bay):
Lori Iannidinardo: 610
David Fast: 479
Area E (Cowichan Station/Sahtlam/Glenora):
Allison Nicholson: 561
Loren Duncan: 532
Area F (Cowichan Lake South/Skutz Falls):
Ian Morrison (acclaimed)
Area G (Saltair/Gulf Islands):
Lynne Smith: 441
Sean D. Jonas: 88
Lia Versaevel: 84
Rod Smith: 227
Area H (North Oyster/Diamond):
Bill R. Carter: 108
Mary Marcotte: 270
Murray McNab: 261
Area I (Youbou/Meade Creek):
Klaus Kuhn:  282
Gail A. Dawson-Russell: 107
Referendum Question:
Are you in favour of the Cowichan Valley Regional District adopting "CVRD Bylaw No. 4201 – Cowichan Housing Association Annual Financial Contribution Service Establishment Bylaw, 2018" to provide regional programs and services related to affordable housing and homelessness prevention?
Are you in favour of the Cowichan Valley Regional District adopting "CVRD Bylaw No. 4202 – Drinking Water and Watershed Protection Service Establishment Bylaw, 2018" to support regional programs related to drinking water and watershed protection?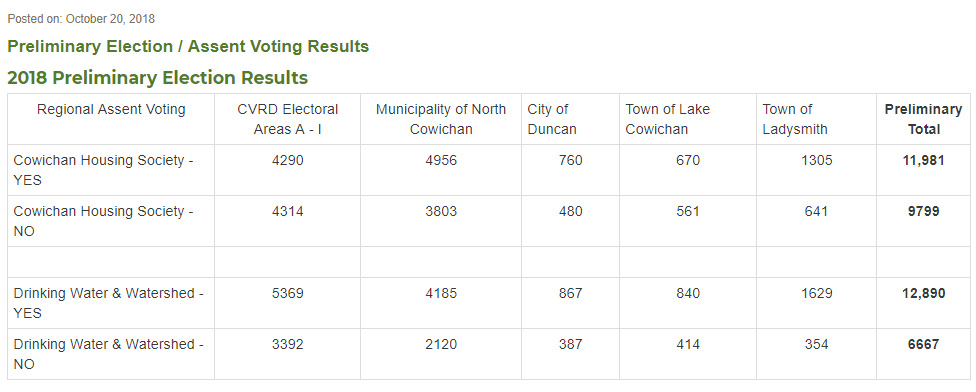 Cowichan Valley School District (SD79) 
Trustees:
Elizabeth Croft
Candace Spilsbury
Barbara D. deGroot
Randy H. Doman
Rob Hutchins
Joe Thorne
Johanne F. Kemmler
Unofficial Trustee Results for the Nanaimo-Ladysmith School District
Jessica Stanley
Lisa Marie Barron
Tania Brzovic – Incumbent
Greg Keller
Stephanie Higginson – Incumbent
Charlene McKay
Chantel O'Neill
Bill Robinson – Incumbent
Elaine Wilkinson