A Vancouver Island club is hosting the BC Under 21 Curling Championships – which started yesterday. The tournament has drawn 60 curlers in the men's and women's divisions from across the province to the club.
Duncan Curling Club Manager Jen Woike says the tournament showcases the next generation of high-level curlers.
"These are the curlers that we're going to see in the upcoming years at the Scotties Tournament of Hearts and at the Olympics," says Woike. "This is where it all starts."
Two of those high-level players are Marijke McDonald and Kaelen Coles-Lyster of team Coles-Lyster. Their dream is to eventually make it to those highest stages.
McDonald is an islander from Victoria who says she wanted to team up with skip Coles-Lyster after they had played one another in a different tournament. They play on the BC Junior Tour together. They have each played in the provincial tournament a few times.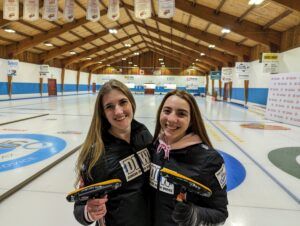 "Curling is a very different sport because it's a team sport," Coles-Lyster says. "We always stick as a team. So although everyone here is from BC, it's not the four best players it's just the best team that moves on."
A lot of work and preparation was taken by not just the athletes ahead of this event, but also by the members of the Duncan Curling Club.
"We've been preparing for this event from about August of last year. " says Woike. "We put in a bid and were accepted. And we put together a committee who worked hard from that point forward to raise money, find sponsors, and find volunteers."
The hard work of those volunteers has been noticed by the athletes.
"It's amazing the amount of work that the volunteers have put into running it," says Coles-Lyster of the event. "Everything from the moment we walked in was very professional and they've taken so much care into every detail of this event."
Woike hopes that the event brings some recognition to the sport as a whole.
"Curling is a sport that can be played from the age of five to ninety," says Woike. "We encourage everyone to get out on the ice and give it a try."
All games are free to attend for the public. Draw times on Saturday are at 2 pm and 7 pm, and on Sunday are at 9 am and 2 pm.