A bizarre early morning encounter has sent an RCMP officer and suspect to hospital.
The incident happened at around 6:30 am when the officer was out doing a vehicle check in the detachment parking lot. The suspect drove his SUV into the lot, hitting the police vehicle and injuring the officer. A second officer shot at the vehicle, striking the driver.
Both were sent to hospital with non-life-threatening injuries.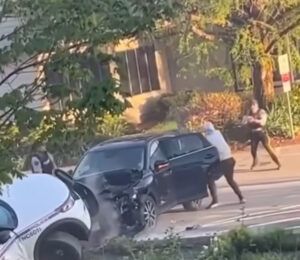 Inspector Chris Bear says it's a disturbing incident and they're unsure exactly why it happened.
"This is a very disturbing incident for our members and employees," says Bear. "We are unsure what the man's intentions were at this time, but the investigation will look to determine that."
In the meantime, the detachment has closed walk-in front counter service to accommodate the investigation. Bear says core policing operations will remain as normal.
"Additional supports and resources have been brought into our detachment and core policing operations for the community will not be impacted," he says.
Police and the Independent Investigations Office have opened an investigation into the matter.