The City of Duncan is speaking out after the playground at Centennial Park went up in flames early this morning. The fire was lit just before 3 am and completely destroyed the structure.
"Centennial Park holds significant value for our community, providing a safe and inclusive space for families and children to gather and play. It is disheartening to witness such destruction," says Mayor Michelle Staples. "We are fully committed to rebuilding the playground for our community's enjoyment."
No timeline or cost estimate exists as of today, but the commitment to rebuild has been issued.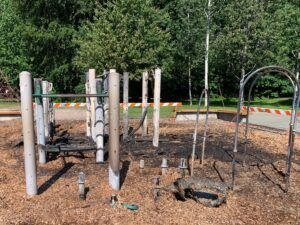 In a statement, the City says, "Public Works are exploring all available options to restore and rebuild the playground, ensuring that our residents and visitors can once again enjoy the recreational amenities that Centennial Park has to offer."
They ask that anyone who has information, or any video camera footage of the incident reach out to North Cowichan-Duncan RCMP at 250-748-5522.
Despite the loss of the playground, the adjacent water park remains open daily.