One of the largest estuary revitalizations on Vancouver Island kicks off this summer in the Cowichan Valley. 
The Cowichan Estuary Restoration Project is a multi-organization effort to restore tidal influence on areas of the estuary that in the past have been cut off by dikes. The area in question is the dike running between Dinsdale Farm and the Koksilah Marsh. Phase one of the project will see over 2-kilometers of the dike removed to let the natural process of the tides build up the marsh. 
Spearheading the project is The Nature Trust of British Columbia in partnership with Cowichan Tribes, and funding will come from the BC Salmon Restoration Innovation Fund. 
The project is estimated to cost anywhere from 2.5 to 3 million dollars and will take 2 years to complete. In the end, over 70 hectares of land will be returned to their natural state. 
Since the arrival of settlers in the 1800's the Cowichan Estuary has been heavily altered to suit the needs of agriculture and logging. This meant significant changes to the flow of the Koksilah and Cowichan Rivers, with the building of the Westcan Terminal Causeway essentially cutting the estuary in half.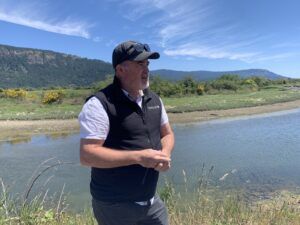 "If we don't do this intervention, we're looking at losing 50% of the marsh habitat in the Cowichan area by 2050 and almost 100% by 2100." says Tom Reid Manager for The West Coast Conservation Land Management Program. According to Reid, over 80% of coastal wildlife species require an estuary at some point in their life cycle, and losing this habitat could have lasting impacts. Local communities will also benefit from the reduced flooding as the estuary's ability to dissipate storm surges will improve. 
The Cowichan Estuary is classified as class 1 which puts it on the same level of ecological significance and productivity as the Fraser and Skeena estuaries. "It's ranked that way because of the international importance to birds stopping here on their international migrations." says Reid 
Reid did acknowledge that taking out the dike will reduce walking trails in the area. The project does include some enhancements to the existing nature trail on Westcan Terminal Road but the existing dike trail by Maple Grove Park will be gone. Part of the project could see the creation of a Community Cultural Forest in partnership with Cowichan Tribes that would be home to culturally significant plants. 
Construction will last for 2 years but for the organizations involved, the commitment is much bigger than that. "When I say it's a two-year project, it's two years construction, but it's probably at least 10 years of monitoring and adaptive management afterward." says Reid.