North Cowichan Duncan RCMP is looking for help identifying a suspect who broke into the TD branch in Duncan. 
The break-in happened on September 4th around 9:30 am and the suspect allegedly stole banking equipment. 
A photo of the suspect can be found on our website, and they were wearing a mask and a Bugs Bunny hoodie at the time of the incident.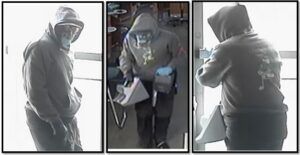 Anyone with information on the incident or suspect is asked to call the RCMP.