(Unrelated photo of black bears)
A man from Tofino was hit with an $11,000 penalty and a 20-year hunting and weapons ban earlier this week. 
Ryan Millar was sentenced in a Provincial court on Monday for killing two black bears one of which was less than two years old. 
Some of the penalty will be given to the Habitat Conservation Trust Foundation.
According to the Conservation Officer Service, in the fall of 2021, Millar shot a sow and cub out of a tree with a recurve bow and then executed the bears on the ground with a crossbow. He then attempted to hide the carcasses.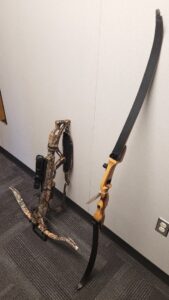 COS worked with the Provincial Wildlife Veterinarian to collect evidence from the dead animals to present in court.
Along with the fines and ban, Millar will spend 30 days in jail.  
"No one should take it upon themselves to needlessly destroy wildlife. We ask people to call us if they have a concern. It's not lawful to take matters into your own hands," said COS Sgt. Dan Eichstadter.
The COS thanked the original witness in a Facebook post, saying that they hope this case will serve as a deterrent to anyone thinking of unlawfully killing wildlife. 
They remind the public to use the RAPP hotline at 1-877-952-7277 to report poaching or unlawful activities.